The fourth session of the 12th National Assembly will start on Oct. 20 and last about one month, the National Assembly's Standing Committee decided on a meeting Wednesday.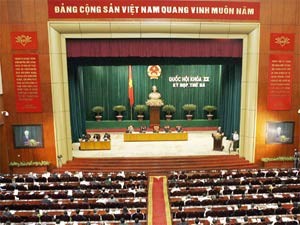 The third session of the 12th National Assembly, which ended on June 3, 2008  
At the session, 10 draft laws, including one on a special consumption tax and one on real estate registration, will be considered.
The session will hear and discuss 18 reports by agencies of the government and the National Assembly.
The session's agenda will not include three draft laws on deposit insurance, administrative formalities, and organization of criminal investigation agencies.
At Wednesday's meeting, the National Assembly's Standing Committee has discussed and passed the Ordinance on Procedure for Arrest of Sea-going Ships, which will take effect on July 1, 2009.
The Standing Committee also heard a report by the Law Committee on the implementation of the Law on Promulgation of Legal Documents. 
The agency stressed that "using one law to amend other laws" was important to the drafting of legislative documents.
When a new legal document is issued, that document has to amend or abolish improper regulations contained in other laws. In case an immediate amendment or cancellation cannot be made, that law must contain an article to deal with those improper regulations.