Tet bonuses for workers and employees are likely to be just one month's salary because of the ongoing global financial crisis, analysts forecast.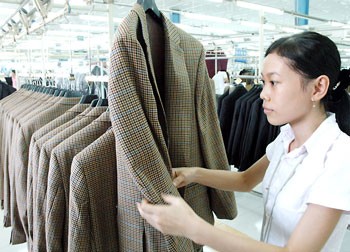 A worker at Nha Be Garment Company, which will pay Tet bonus at the same amount as last year
Finance, banking, securities trading and real estate firms, which normally pay the biggest bonuses, will pay much less than usual.
But state-owned enterprises and joint-stock and foreign-invested companies could maintain their bonus levels.
"The 2009 Tet bonuses will be lower than last year," said Mr. Le Thanh Tam, director of the Ho Chi Minh City Department of Labor, Invalids and Social Affairs of HCM City. "Last year, several companies gave bonuses of two to three month's salary but they will offer one-month salaries next year. Small companies and textile-garments and footwear enterprises, which are facing a decrease in contracts, lower selling prices and higher production costs, will give the lowest Tet bonuses."

However some national leading garment enterprises, including Viet Tien, Saigon and Nha Be, will pay Tet bonuses of VND5 million to VND6 million per person, the same amount as last year figure.
Pou Yuen (Vietnam) Holding Co. Ltd, which employs more than 70,000 laborers, will give a Tet bonus amounting to one month's salary. Tan Binh Import Export Joint Stock Company (TANIMEX) and the Voluntary Youth Public Benefit Service Co, which has more than 1,000 workers, will pay a Tet bonus of VND1.5 million to VND3 million.
Most enterprises around the city are making efforts to pay their workers their salaries and Tet bonus.
Nearly all companies in Cu Chi and Binh Tan District will give a Tet bonus of one month's salary, according to Chairman of the Labor Unions of Cu Chi District Vo Van Tan and Deputy Chairwoman of the Labor Unions of Binh Tan District Tran Thi Thieu Lien.
Deputy Chairwoman of the Labor Unions of District 5 said state-owned companies would pay the highest Tet bonuses of an average of VND15 million to VND30 million per person, foreign-invested companies were expected to pay around VND1.8 million per employee and cooperatives, private and joint stock companies were tipped to pay VND1.4 million to VND1.5 million.
Tet bonuses and monthly income paid by the service sector, which has not been affected by the global financial crisis, will be higher.
The Department of Labor, Invalids and Social Affairs of HCM City will cooperate with district units to check Tet bonus and salaries are paid by enterprises which are facing difficulties.
Deputy Minister of Labor, Invalids and Social Affairs Nguyen Thanh Hoa said laborers at home and abroad were on the verge of losing their jobs because the current global economic crisis. The government was trying to find cures for the national economic decline and create more jobs for laborers, Hoa said.
District departments of labor, invalids and social affairs will survey the real situation of manufacturing and trading of firms and report their findings to the government.
The ministry will send proposals for job-creating projects and programs to the government.
In addition, a new unemployment insurance policy is expected to come into effect on January 1 next year. The following year, unemployment benefits will be available to the jobless.
Next year the government will also provide direct assistance and relief to the poor in Vietnam's 61 poorest districts.
Four proposals of the Ministry of Labor, Invalids and Social Affairs to the government and National Assembly:

-Provide VND500 billion to VND600 billion to the national target program for employment fund;
- Increase the capital for the labor market development project;
- Delegate local authorities to ensure the employment target s part of socio-economic development policies and programs;
- Develop handicraft villages and farm businesses and focus on vocational training in rural areas.