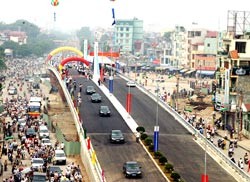 Nga Tu So overpass
The Nga Tu So overpass, one of the most important structures of western Ha Noi, hopes to ease serious traffic congestion in the Ha Noi – Ha Tay route.
The project comprises of three items, which are the construction of a 237-meter long overpass, the construction of a 462-meter tunnel for walkers, cyclists and wheelchair users and the expansion of roads including Nguyen Trai, Lang, Truong Chinh, Tay Son.
When the overpass opens, the remaining items will immediately be under construction and the whole project, capitalized at over VND1 trillion, is scheduled to be finished in late 2006.
However, the overpass, linking the capital city of Ha Noi to Ha Tay Province, is expected to come into operation on May 30.