Yesterday morning, a groundbreaking ceremony was held in Tinh Hai District of Thanh Hoa Province to commence the building of the US$6 billion Nghi Son Refinery and Petrochemical Complex project. Attending the ceremony were PM Nguyen Tan Dung, former General Secretary Le Kha Phieu and leaders of ministries, agencies and representatives of the Nghi Son Joint Venture.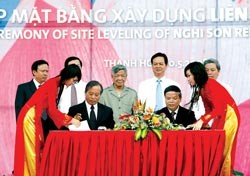 Leaders of ThanhHoa Province and Investors sign the cooperation contract
The project has a designed capacity of 10 million tons a year. The partners of the Joint Venture include Vietnam Oil and Gas Corp or PetroVietnam (PVN), which holds 25.1 percent of the total paid-up capital, Japanese companies Idemitsu Kosa (IKC) and Mitsui Chemicals Inc (MCI) and the Kuwait Petroleum International (KPI).

Addressing the ceremony, Prime Minister Nguyen Tan Dung emphasized that the Nghi Son Refinery and Petrochemical Complex is one of the nation's key projects that will ensure an adequate supply of energy to the country. In addition it will promote the socioeconomic development of the provinces and cities in the central part of Viet Nam and as a result the whole country in general.

The Prime Minster also expressed his heart-felt thanks to the local people who had voluntarily moved and settled down into new residential areas to make the site available for the project. Mr. Dung stressed that without the local dwellers' sacrifices, things would be different. He urged the leaders of the Thanh Hoa Province to work with investors to pay adequate compensation to the people affected.

When put into operation 2013, the complex will be able to process 10 million tons of crude oil per year or 200,000 barrels per day.