A festival was held at the Dong Da Park in Hanoi on February 23 to mark the 226th anniversary of the Ngoc Hoi–Dong Da Victory over the Chinese Qing invaders.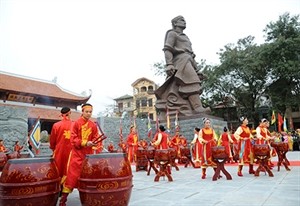 The Drum performance at the festival (Photo: VNA)
The victorious battle was led by national hero Nguyen Hue (also known as Emperor Quang Trung).
National Assembly Chairman Nguyen Sinh Hung, Deputy Prime Minister Nguyen Xuan Phuc, Secretary of the Hanoi Party Committee Pham Quang Nghi and representatives of ministries, local departments and thousands of local people took part in the event.
The festival included an incense-offering ceremony, a procession featuring Emperor Quang Trung's palanquin and a range of artistic performances in memory of him and Tay Son soldiers.
Dong Da Hill, located in the park in Hanoi, reportedly witnessed fierce battles between Emperor Quang Trung's soldiers and the Chinese invaders and the Chinese invaders on the fifth day of the first lunar month.
The festival at the park aims to uphold the country's cultural values, while educating the young generation.
"The annual festival is organised every year to pay homage to the great victory of Emperor Quang Trung, and to teach the tradition of patriotism and national pride to the capital's young generation," said Chairman of the Dong Da district People's Committee Nguyen Song Hao at the festival.
In the early spring of 1789, Nguyen Hue – who was later proclaimed Emperor Quang Trung – led his troops from the Hue imperial palace to Hanoi, which was then occupied by the Qing army.
He launched a surprise attack and defeated more than 29,000 invading soldiers in a battle on the fifth day of the Lunar New Year.
The victory of Ngoc Hoi-Dong Da has gone down in Vietnamese history as an immortal and epic struggle for national construction and defence.
On this occasion, a 700sq.m temple to worship Emperor Quang Trung, located in the Dong Da Park, was inaugurated on February 24.
The same day, an art performance to mark the glorious victory was held in Ho Chi Minh City.