Nguyen Ba Thanh, Head of the Party Central Committee's Commission for Internal Affairs, arrived in his native land, the central city of Da Nang, on January 9 for continued treatment at the municipal General Hospital.
The information was revealed by Pham Hung Chien, Director of the Da Nang Department of Health.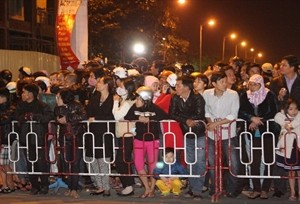 Hundreds of local people waited for Mr Thanh. (Source:VNA
Nguyen Ba Thanh was diagnosed with bone marrow disorder and initially received treatment at the Central Military Hospital 108 in Hanoi . Later the official was brought to Singapore for treatment, and at the advice of Singaporean doctors, Thanh's family took him to the United States in mid-August last year.
According to American health experts and relatives, the official underwent chemotherapy while waiting for bone marrow transplant.
However, as his health condition did not meet requirements for bone marrow transplant, US doctors and his family decided to stop chemotherapy and focus on improving Thanh's health.
The specialist council of the Central Commission of Health Care for Senior Officials will hold consultations on Thanh's illness and assign leading professors to take care of his treatment.
Nguyen Ba Thanh, 62, was born in Da Nang 's Hoa Vang district. He served as Chairman of the People's Committee and Secretary of the Party Committee of the city before becoming the Head of the Party Central Committee's Commission for Internal Affairs