The Communist Party of Vietnam has elected National Assembly Chairman Nguyen Phu Trong as its new General Secretary for the 2011-2015 term, replacing Mr. Nong Duc Manh.
The Party's Central Committee of 175 official members selected Mr. Trong, 67, to be chief late Tuesday during the Party's eight-day Congress in Hanoi.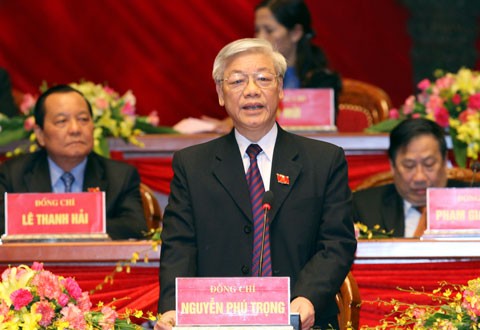 Mr. Nguyen Phu Trong chairs a session during the National Party Congress in Hanoi from January 12 to January 19, 2011. (Photo: Vietnam News Agency)
Retiring Party chief Manh, 71, who has led the party for the past ten years, congratulated the new Party chief during the closing session of the Congress on Wednesday morning.
Mr. Trong is an expert in Marxism-Leninism and party ideology.
On Tuesday, the Central Committee elected the 14-member Politburo, which sets government policy in Vietnam.
The new Party Central Committee's Executive Board has its first meeting on January 18, 2011 to elect the new Party General Secretary. (Photo: Vietnam News Agency)
The Politburo includes Mr. Trong, Mr Dung, Mr. Truong Tan Sang, Deputy PM Nguyen Sinh Hung, Defense Minister Phung Quang Thanh, Minister of Public Security Le Hong Anh, Hanoi Party chief Pham Quang Nghi, Ho Chi Minh City Party chief Le Thanh Hai, and Mr. To Huy Rua, chief of the Central Committee for Propaganda and Education.
The new faces in the Politburo are Nhan Dan Newspaper editor-in-chief Dinh The Huynh, Mr. Ngo Van Du, chief of the Party Central Committee Office, Mr. Nguyen Xuan Phuc, Minister, chief of the Government Office, Deputy Minister of Public Security Tran Dai Quang, and Ms. Tong Thi Phong, National Assembly Vice Chairwoman.