The Management Board of the Sea Preservation Zone in Nha Trang Bay released thousands of sea species at Mun Islet on December 28 in an effort to repopulate the marine ecosystem.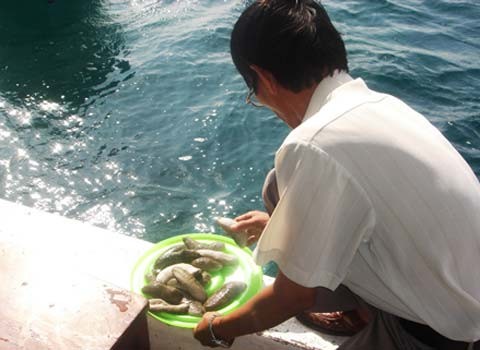 An expert of the Nha Trang Sea Preservation Zone releases marine species on Hon Mun Islet on December 28. (Photo: Dat Viet Newspaper)
The creatures included 2,000 sea horses, 1,000 trochidaes, 300 holothurians, and khoang co fish (amphiprion and premnas).
The sea horses and khoang co fish were bred using artificial insemination at the Nha Trang Oceanography Institute.
The event was held as part of activities to celebrate Vietnam Biological Diversification Day (December 29).
The natural ecosystem of Hon Mun Islet has improved significantly thanks to recent protection efforts and breeding programs initiated by the Sea Preservation Zone and the Nha Trang Oceanography Institute.
Eco-tourism has also improved in the area along with the population of fish available to local fishermen.