The construction of the Ninh Binh Fertilizer Plant will help ensure food production safety and national food security in the current context of unexpected changes in the world's crude oil and other commodities prices, said Deputy Prime Minister Hoang Trung Hai.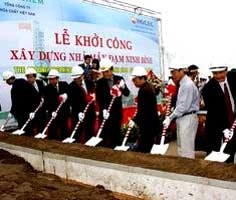 The ground-breaking ceremony (Photo by Laodong.com)
Addressing the ground-breaking ceremony of the plant by the Vietnam National Chemical Corporation (Vinachem) on May 10, Deputy PM Hai emphasised the importance of the project for the development of the country's agriculture and its economy. 
 
He said that the stable operation of the plant will provide a plentiful fertiliser source for agricultural production. 
 
Located in the Ninh Phuc Industrial Zone in northern Ninh Binh province, the plant which is designed to produce 560,000 tonnes of fertiliser per year from coal dust, is a key project that has received the Government's approval as part of the chemical sector's development scheme. 
 
Vinachem General Director Do Duy Phi said that the 11 trillion VND (667 million USD) project will be carried out in three years and a half. Together with the Ninh Binh fertiliser plant, the urea production output of the Phu My and Ha Bac plants after expansion is expected to meet between 65-70 percent of the country's urea demand.