With its attractive investment policies, the central province of Ninh Thuan is now a reliable destination for local and foreign investors, President Nguyen Minh Triet has said.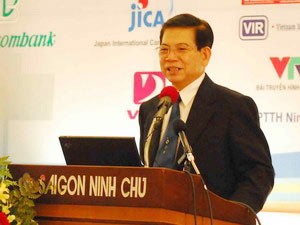 President Nguyen Minh Triet speaks at a conference on calling for investment in Ninh Thuan Province on October 17 (Photo: Vietnam Plus)
He was speaking at a conference on investment promotion in Ninh Thuan held in the province on October 17 by the Ministry of Planning and Investment, Ninh Thuan provincial authorities, and the Japan External Trade Organization.
During the national-level conference, which included more than 500 domestic and foreign investors, provincial authorities presented Ninh Thuan's socio-economic development strategy to be reached by 2020 with a vision to 2030. The strategy included land-use planning, investment incentives and major investment projects.
Local authorities also introduced 54 projects calling for investment, including 31 existing projects and 23 potential ones, in nine social and economic fields in the province. Total invesment in those projects was estimated at VND38.67 trillion (US$2.15 billion).
The chairman of the Province's People Committee handed investment certificates to five projects with total investment of VND3 trillion ($167 million) and signed memoranda of understanding for seven other projects totaling more than VND21 trillion ($1.17 billion).
"Investment in Ninh Thuan will benefit both investors and the province's development. The province should set up practical projects and viable cooperative programs with local and foreign investors," the President said.
"We must make the best use of the province's potential and advantages to develop its economy and create a better life for local people," he said.  
"I hope investors will come to Ninh Thuan with all their intellect, capability and heart," he added.
The same day in the province's Thuan Bac District, Binh Tien Tourism Co. Ltd., held a groundbreaking ceremony for a large tourism project covering 190 ha that houses a luxury resort, a hotel, villas, a cultural village, dog-racing grounds, tennis courses and an 18-hole golf course. The project will cost an estimated VND2.58 trillion ($143 million) and is expected to be operational by September 2014.
The provincial Department of Transport also started construction of the Ninh Chu Bridge in Ninh Hai District. The 511m-long bridge is expected to be complete in 2011 at an estimated cost of VND192 billion ($10.7 million).