Ninh Thuan Province, in the south central coast of Vietnam, has over 100km of coastline with numerous fine sand beaches, sand dunes and over 300 days of glorious sunshine in a year.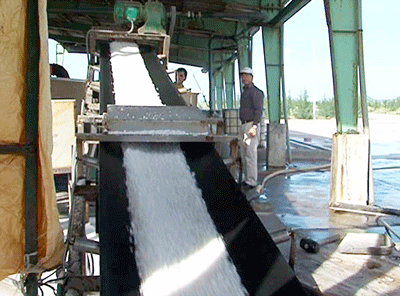 Assembly chain line of a salt production Company (Photo: SGGP)
Accordingly, Ninh Thuan Province is an ideal place to retrieve and make salt for the country. Sadly, the salt workers here lead a very precarious existence. To be able to improve their lives, Ninh Thuan authorities are seeking measures and ways to improve conditions for salt making.
It has come as a shock to those connected with this trade that soon the century old Ca Na salt field will be converted into an industrial park. This is sure to affect the livelihood of hundreds of salt workers.
Tran Xuan Hoa, deputy chairman of the Ninh Thuan People's Committee, said that the Ca Na salt field has been approved for conversion into an industrial park, which will benefit residents in the area.
The province currently has a total area of 2,000 hectares under salt production, which supplies 40 percent of the salt in the country. The People's Committee has worked out a job plan for residents here with modern production techniques, alliances between enterprises and salt workers in which businesses will provide capital, technology and purchase the product as well.
To modernize salt making techniques, salt workers will have to drop old-fashioned methodology that produces poor quality salt and earns little income, as it is totally dependent on strong sunshine. Salt made the old-fashioned way requires it to be evaporated in large quantities, after it is extracted from the ocean, resulting in organic and man-made pollutants to enter it while drying.
Ninh Thuan Province has decided to switch the structure of production, by increasing the area by 3,000 hectares at the Quan The industrial salt and export economic zone project and another complex of the Ha Long Investment and Development Company, for producing high quality and iodized salt.
The two projects were started in 2009 at a total investment of VND340 billion (US$ 16 million) on over 500 hectares, east of the Quan The industrial salt and export economic zone area. It has production capacity of nearly 20,000 tons of industrial salt per year.
Apart from this, around 16,000 tons of high quality and iodized salt will also be produced annually. Salt products will then meet national standards in purity and quality.
It is expected that an additional 900 laborers will work in the company when the west section of the Quan The begins operations, increasing the labor force of the company to 1,200.
In addition, salt companies will invest in new technologies to raise productivity and quality. So far, the Ninh Thuan Salt Company has spent VND15 billion to purchase canvas to cover 10,000 hectares of salt fields. 
The technique of using canvas to cover the ground for salt extraction has been operational since 2008 and has proved very effective.
The canvas method helps in preserving the salt crystals during the rains and greatly reduces energy consumption. It also helps in improving output by 100-120 tons per hectare as well as the quality of the industrial salt.
The cost of canvas floor covering is 15-20 percent higher than salt produced by traditional methods. As a result, farmers have invested in making salt by advanced methods.
To develop the sector, salt workers are encouraged not to make salt in old-fashioned ways; nevertheless, most of salt farmers are poor while it costs VND500 million to buy canvas for one hectare.
Therefore, the government should adopt preferential policies for salt farmers to shift production.
Moreover, alliance model between enterprises and farmers should be implemented in which farmers will contribute land or capital to become a shareholder in the company.