The 11th National Assembly (NA)'s ninth session will officially open on May 16 at the Ba Dinh Hall in the capital city of Ha Noi. Many reports and development plans will be presented on the first working day of the session.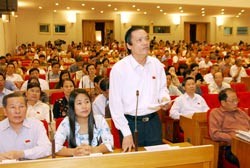 Members of NA discuss in the eighth session of the 11th National Assembly.
In nearly one month and a half, deputies in the ninth session will discuss many important issues relating to the national socio-economy, legislation and appointment of the Government's important positions.
On May 15, a meeting was held by the NA to prepare and approve its ninth session's agenda. Accordingly, after NA Chairman Nguyen Van An delivers an opening speech, Mr. Nong Duc Manh, General Secretary of the National Party, will cover some issues regarding the results of the 10th National Representative Congress of the Party.
Then, on behalf of the Vietnamese Government, Standing Deputy Prime Minister Nguyen Tan Dzung will report on the five-year socio-economic development plan for 2006-2010, the implementation of the socio-economic tasks and the state budget in 2005 and the deployment of the country's 2006 tasks.
On the first working day of the 9th Session, the NA's Economy and Budget Committee will release its report on the investigation results of the five-year socio-economic development plan for 2006-2010.
Besides, the government's and the NA's Economy and Budget Committee's reports on the balance of the State budget in 2004, the land-use plans between 2006 and 2010 will also be presented at the session.
On the same day, the Government will report its management and allocations of big funds, especially the ODA. After hearing the reports, the NA will start its discussions.
As shown in the approved agenda, the NA's personnel session, which will last five days from June 24, 2006, will be carried out at the end of the session after the NA finishes the inquiry and passes a series of bills.
At 8:30AM of May 16, the Viet Nam Television (VTV) will broadcast live the opening session of the 9th Session.
The session will close on June 30.