There were no reports of casualties in a severe landslide that   occurred along the Hau River in Binh Khanh Ward of Long Xuyen District in the southern province of An Giang on May 26, which destroyed property and caused hundreds of people to flee from the area.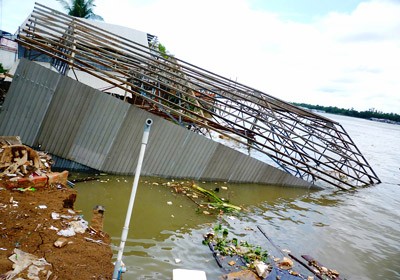 An ice production unit falls in to the Hau River due to a landslide on May 26 (Photo: SGGP)
Six houses, one construction material store and one ice production unit were completely damaged as the entire area slipped into the river.
Long Xuyen City authorities and police officials arrived at the scene almost immediately and helped people in the affected area to move to safer locations.
Police even protected the personal belongings of the landslide victims, to prevent hooligans from taking advantage of the situation and rob people.
Earlier, several people in Binh Khanh Ward had gone to local authorities to report of leaks in their houses, after which authorities decided to relocate people to safer areas.
The People's Committee of An Giang Province has asked Long Xuyen City authorities to relocate affected residents to safer areas and provide 50 kilograms of rice to each household.
On the same day, Vo Anh Kiet, deputy chairman of the People's Committee of An Giang Province, held a meeting to discuss measures to deal with the situation.
At the meeting, Long Xuyen City authorities said that it is necessary to relocate 160 households out of the danger zone to safer areas.
A representative of the People's Committee of Binh Khanh Ward said that the Department of Agriculture and Rural Development will provide VND10 million to each family whose house was destroyed in the landslide for them to resettle in a safer area; the Long Xuyen City Department of Labour, Invalids and Social Welfare will provide VND6 million; and the People's Committee of Binh Khanh Ward will provide VND1.7 million.