State Bank of Vietnam Governor Nguyen Van Giau denied rumors of a likely hike in the prime interest rate, announcing January 26 it would remain at 8 percent in February.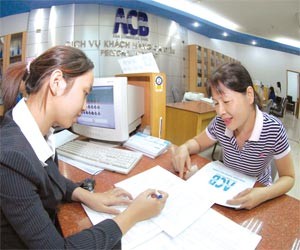 Transaction at an Asia Commercial Bank branch in Ho Chi Minh City
Other interest rates too would remain unchanged, he said.
                                                         
The refinance rate is at 8 percent, the rediscount rate at 6 percent, and the overnight rate on inter-bank electronic payments and the rate of loans to finance balances in clearing transactions between the State Bank and commercial banks are at 8 percent.
 
The central bank recently announced details of the subsidized loan program for buying agricultural machinery, equipment, and materials and construction materials for building houses in rural areas.
 
The Government will fully subsidize interest on loans taken to buy agricultural machinery and equipment, trucks of below five tons, and desktops, and provide a 2 percent subsidy on loans taken to buy agricultural inputs like fertilizers and pesticides and construction materials.
 
The subsidies will only be on short- and medium-term dong loans.