After harsh criticism in the media of the negative impact of online games in August 2010, the Ministry of Information and Communications temporarily discontinued issuing permits for new online games, in order to improve the situation.
However, recent statistics from the Department of Information and Communications in Ho Chi Minh City show that among the 69 approved online games in the market at the moment, 10 were given licences during the period September 2011 to February 2012.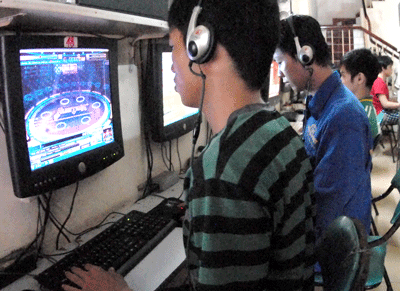 Youth playing online games in District 4 of Ho Chi Minh City (Photo: SGGP)
Explaining their contradictory action, the Ministry stated that prohibiting licences for online games was ridiculous and should not be considered a long-term solution. Moreover, this may negatively affect domestic online educational games such as general knowledge ones used by high school students to improve English language skills, etc.
The Ministry of Information and Communications said that it has already filed a request to Prime Minister Nguyen Thien Nhan for permission to grant permits specifically for domestic educational and entertaining online games that have no aggressive content, while waiting for official regulations to be put in place.
According to the ministry, it is such games that help bridge the knowledge gap in the young while at the same time being entertaining.
In reality, the 10 approved online games from 2011 to February 2012 are actually four from Vietnamese companies, namely 'Chinh Phuc Vu Mon' (Conquering Test); 'PI-Dao Thien Duong' (Heaven Island); 'B-Kool'; and 'Chinese Chess plus Tic-Tac-Toe'. The other six are made in China, Taiwan and Korea.
Between 2010 and beginning of 2011, local authorities in HCMC received support as well as appreciation from the public because they protested access to violent online games in the country.
As a result, 18 out of 43 violent online games available in the market at that time were removed while 29 of them had to censor the brutal fight acts.
In addition, any website supporting or promoting aggressive games was fined and asked to remove the content.
 
Thousands of game agencies were penalised for installing violent online games. All agencies were also asked to close business by 10pm.
Despite the stringent rules, a recent report by the Department of Information and Communications in HCMC showed that many games have already wound their way in the market once again.
For example, many game agencies who were earlier fined have simply moved their base from HCMC to northern regions and Hanoi, where rules are not as stringent for such businesses.
 
Despite urgent requests for permission to re-start businesses, concerned agencies in HCMC have still not received any positive response.
Other game companies are using foreign servers to avoid being monitored and punished by Vietnamese law or take advantage of social networks, where users can easily download and play games offline.
At present, there are 69 approved online games in the market in Vietnam. However, in actual fact about 102 games are already circulating for sale.
There already exists proof of the negative impact of violent online games to society. However, the most urgent issue now is to build consistency in monitoring and managing of online games at different levels, so as to somewhat dilute their impact and influence on users.


More important is to maintain consistency in monitoring online games nationwide.
The departments of Information and Communications in various areas need to assign competent human resources to control the sale of such products, especially at the beginning of the summer holidays.
At present, only Ho Chi Minh City is seriously committed to the task and it is also possible that certain groups could be reaping benefits by illegally promoting violent online games.
(Le Manh Ha, vice chairperson of the People's Committee of Ho Chi Minh City)