Smuggling, a longstanding "complicated" issue, is set to remain a thorny problem this year, market watch officials have warned.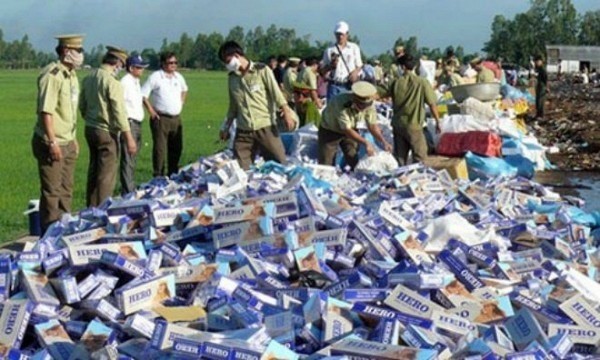 Smuggling, a longstanding "complicated" issue, is set to remain a thorny problem this year, market watch officials have warned. — Photo saostar
In a video conference held in Hà Nội, Đà Nẵng and HCM City to review smuggling and commercial fraud last year, the Department of Market Management (DMM) reported a surge of 1,061 smuggling cases over the 103,746 cases recorded in 2015.
Fines collected in 2016 reached VNĐ548.9 billion (US$24.4 million), some VNĐ89.1 billion higher than the previous year, the DMM reported.
These numbers, however, do not mean that greater control has been exerted over the smuggling and manufacture of counterfeit goods and goods infringing intellectual property rights.
Rather, such activity has accelerated and become harder to contain as they were camouflaged under international famous brand names, the meeting heard.
HCM City has for long been a consumer hotspot for trafficked and counterfeit goods, the most popular being watches, handbags, clothing and shoes marked with foreign brand names like Gucci, Chanel and Adidas.
"A majority of the counterfeit goods were smuggled from China," said Phan Hoàn Kiếm, head of HCM City Market Management Bureau and deputy director of the local Department of Industry and Trade.
"A lot of cosmetics were faked so well that they looked like the real ones, from their boxes to the colour and the smell. But they were sold at cheap prices and did not ensure quality or safety," he said.
Kiếm believed that the trafficking of fake and counterfeit goods would continue because of the huge profits involved and the general preference for choosing cheap products of famous brands regardless of their authenticity.
However, this also means that Vietnamese products are losing grounds against fake ones because they lack diversity, are not packed as attractively, and are sold at higher prices.
Agricultural products, particularly fertilisers, were also subject to counterfeiting, the meeting heard. The number of fake and counterfeit fertiliser cases detected in 2016 shot up by 150 per cent over the previous year, according to the DMM.
The Market Management Bureau of Tiền Giang Province in the biggest rice-producing region of Cửu Long (Mekong) Delta also reported that sub-par products tended to have delicate, beautiful packaging that made it difficult to differentiate them from the authentic ones.
Legal loopholes
Nguyễn Văn Trường, head of the Market Management Bureau of Lạng Sơn Province bordering China, from where a majority of goods are smuggled into Việt Nam, said smugglers were taking advantage of legal loopholes to legitimise their trade.
"If invoices are already issued and the ownership of the smuggled goods is transferred to the customer, the regulations are not clear on how to deal with such goods," he said.
Industry and Trade Minister Trần Tuấn Anh, who chaired the conference, acknowledged the legal problem, but also pointed out that the capability and ethics of law enforcement forces were an issue.
"In order to effectively fight the smuggling of fake goods and counterfeiting, we should consider holding senior officials accountable for allowing trafficked goods to become easily available in the market," he said.