Central Highlands Steering Committee on Monday asked the Ministry of Industry and Trade to postpone building of new hydropower plants in the Central Highlands within two years.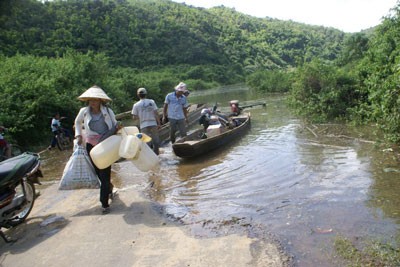 The filed photo shows 28 National Highway which links Lam Dong province with Dak Nong being flooded by 3rd Dong Nai Hydropower Plant .
At a meeting on the Central Highlands problems Lieutenant General Tran Dai Quang, Minister of the Public Security and Head of the committee reviewed hydropower plants in the region.
A report by the committee said that there were 118 hydropower plants with a total capacity of 5,798 MW and 75 others under construction in the Central Highlands.
Recently, the ministry has eliminated 155 hydropower projects and 72 potential locations, the report said.
However, the public has raise concern over the planning, development and investment in hydropower plants in the Central Highlands and mountainous areas, the report added.
The region had to give up 80,000 hectares of lands and forests for hydropower plants and 26,000 households had to move.
The forest plantation to compensation for forest areas lost due to hydropower development is too sluggish with 757 hectares among lost 22,770 hectares of forests so far.
Meanwhile management of hydropower construction has been ineffective, causing serious incidents.
In many projects managers don't recover environmental influence, slowly resettle people who had to move out of the project areas and offer lands for hundreds of households.
Transportation system and welfare allocation have not been built, affecting people living in the region.