A sum of VND200 million (more than US$11,000) will be donated to a school for disabled children in Ho Chi Minh City via a charity program conducted by 16 hotels here.
Representatives of the 16 hotels presented a symbolic cheque for this sum to the city-based organization Education for Development at a ceremony held Thursday at the New World Hotel, one of the 16 donors.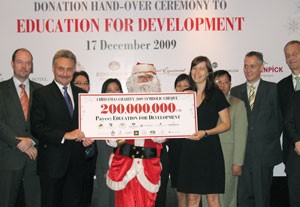 A token cheque of VND20 million presented to organization Education for Development on Dec. 17 in Ho Chi Minh City (Photo: Tuong Thuy)
In the Hotels' Christmas Charity program, the 16 participants contributed resources and budget allocated to printing and sending greeting cards and other promotional items to business affiliates and colleagues. These things are sent via email, and the 16 hotels have also donated resources of their own.
Kerry Wills, development advisor at Education for Development, said the sum would go to Anh Duong Special Education School in District 12. She said given with the donation, the school's psychomotor and soundproof hearing rooms "will be suitably equipped with educational and rehabilitative equipment."
Each of the 120 students enrolled this year at the school will receive maximum benefit from the project, according to Education for Development.
The school provides special education services for Vietnamese children who are hearing impaired, autistic, or suffer from other learning disabilities.
The 16 participants in the program are the Caravelle, Majestic, Mövenpick, Equatorial, New World, Renaissance Riverside, Duxton, Rex, Kim Do, Continental, Victory, First Hotel, Grand, Saigon Star, Bong Sen Corporation and Binh Quoi Tourist Village.
Caravelle general manager John Gardner said last year's number of participating hotels was 11.
"It's wonderful to get together with people you're used to interacting with in a business context, so enthusiastically joining in a common cause," said Gardner, who initiated the first charity in 2005 with his colleagues.