On May 25, the first day when Decree 24 on the management of gold trading activities issued by the State Bank of Vietnam became effective, reporters from Saigon Giai Phong newspaper did not notice any radical change in the gold market.
Business in gold shops in Le Thanh Ton, Nguyen Dinh Chieu Streets was still bustling.
However, they mainly traded in SJC gold bars.
While some gold shops have refused to buy non-SJC gold bullion from people, others have tried to get it at lower rates, as the new regulation on gold market management has now come into effect.
Previously, the State Bank of Vietnam confirmed that Decree 24 on the management of gold trading activities did not discriminate between SJC (Saigon Jewellery Co), Vietnam's biggest gold refiner and trader, and non-SJC gold bars.
However, even if sold to the original manufacturers, the price of non-SJC gold has been lowered below the listed price because of a reason: gold enterprises fear non-SJC gold cannot be resold!
The owner of a gold shop in Pho Co Dieu Street in District 5 told a reporter that he would not buy non-SJC gold since they could not resell it, as customers now choose SJC gold bullion only.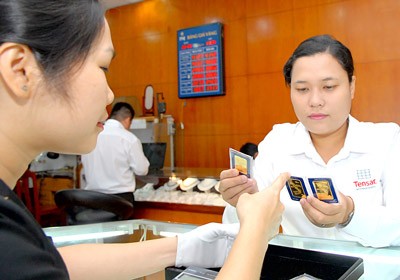 Buying gold in a PNJ shop in Nguyen Van Troi Street in Phu Nhuan District. (Photo SGGP)
Meanwhile, a gold shop owner in Ban Co market in District 3 said that she had bought one tael (37.5 grams) of SJC gold bar for VND41 million and 0.5 SBJ gold bar ( of Sacombank Jewellery Co) for VND20 million, VND1 million lower than SJC.
Not only SBJ gold, but also gold bars from many other brands such as NJC, Rong Thang Long, and AAA, are suffering a similar fate.
Thang Long Dragon gold bar bid price was listed at the Hanoi-based Bao Tin Minh Chau Co, the manufacturer, late Wednesday afternoon at VND40 million a tael, while AAA and SJC gold bar was VND40.2 million a tael and VND41.18 million a tael respectively.
In the SJC flagship shop, the number of customers was equal to that of yesterday while in non-SJC shops, the number of buyers were few.
In most of the shops, the owners told the same thing, adding that non-SJC gold bullions can now be used to make gold jewellery. In some gold shops in Binh Thanh District, many customers chose to buy gold rings instead of gold bars. In addition to this, dealing with State Bank's decision, a large number of gold smiths changed to make gold rings from gold bars.
"We are waiting for a circular giving a guideline from the State Bank for us to re-register our business functions," said Do Minh Phu, Chairman of Doji Jewellery Company.
"Non-SJC gold bar customers are at a disadvantage with the slow move by the State Bank in releasing guidelines for gold bar transition. We hope that the gold bar trading demand of the people will be met through the network of trading points not only of enterprises, but also of credit institutions", Phu told SGGP reporters.
"The production and trading of gold bars/bullion in Vietnam will only be licensed for state-appointed organisations, according to a recent decree. This decree's provision will only be easier for management agencies to monitor management business, trading, import and export of gold production," he said.
One wholesale gold businessman complained that on the most exciting trading day, gold sales reached less than 500 taels, while the daily volume on normal days is around 200-300 taels, down 90 per cent compared to the past.
Regarding the aforementioned provision, Nguyen Thi Cuc, vice director-general of PNJ remarked that to resolve this situation, gold companies have proposed that the State Bank announce its conversion plan early in order to ease public concerns.
With regulations defined as above, there will only be a handful of businesses and banks able to satisfy the conditions, Cuc added. "Currently, since there is no guideline, non-SJC gold bars can only be bought, not sold, thus forcing gold firms to lower prices to minimise their buying activities".

Decree No. 24/2012/NĐ-CP dated April 3, 2012 on gold trading management stipulates that only state monopolies are approved to produce gold bars, export gold and import raw material to produce gold bars.
The decree has also specified several conditions that organisations and individuals must satisfy in order to obtain a permit from the State Bank of Vietnam.
Accordingly, they must have a charter capital of at least VND100 billion with operational experience in the field of purchasing and selling gold for more than two years.
As for credit institutions, they must meet three conditions, including a charter capital of at least VND3 trillion, having registered for gold trading at the Central Bank and having a trading network in five provinces under central authority.
After a few dozen drafts, the final decree on the management of gold trading activities, a very important document with a strong influence on the domestic gold market, has been signed by the Prime Minister.
Accordingly, the legal ownership of gold of organisations and individuals is recognised, while the use of gold as a means of payment, as was allowed in the past, is now considered against the law.
Individuals who carry gold exceeding a quota without a permit issued by the State Bank when leaving or entering the country are also considered violators. However, the Bank has yet to point out the specific quota.
The requirements of the State Bank were made concurrently with the Prime Minister signing the Decree on the management of gold trading.