The National Assembly (NA) approved eight laws June 17, including the Law on Non-Agricultural Land Use Tax and the Law on Enforcement of Criminal Verdicts. Under the two new laws, dwelling houses will no longer be subject to taxation and the State will switch to lethal injection for executing criminals sentenced to death. 
The Law on Non-Agricultural Land Use Tax was passed by an overwhelming vote. 424 of 434 deputies voted in favor of the law under which dwelling houses will be exempt and in some cases, subject to receive tax breaks.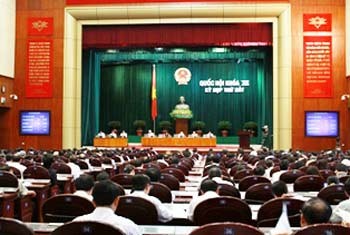 A view of the June 17 meeting of the seventh session of the 12th NA, where eight laws were passed (Photo: Nhan Dan)
Under the new law, which will take effect January 1, 2012, businesses where formerly wounded military veterans account for 20-50 percent of their workforce will enjoy a 50 percent tax reduction, while land used by religious organizations not for purposes of business will be exempt.
In addition, lands certified by competent agencies as historical and cultural relics also earn a tax-exempt status.
Taxable land area is the area of land actually used by taxpayers, according to the law. Illegally occupied land must also be taxed, pending resolution from competent agencies.
Tax rates include 0.07 percent on land that is less than three times the limit of dwelling land, 0.15 percent for land that is beyond the limit or does not comply with relevant regulations, and 0.2 percent for land that is illegally occupied.
Taxable land prices are the applicable prices of land in each district, town, city and province.
The NA also passed the Law on Enforcement of Criminal Verdicts, which includes regulations for death sentence executions, with a voting of 86.61 percent in favor of the law.
The method of lethal injection will be applied in future executions, and the relative or legal representatives of the executed person may receive the body of the executed person if their petition for this purpose is approved by the tribunal president of the sentencing court.
The tribunal president is entitled to reject that petition if the receipt of a particular dead body is considered harmful to environmental hygiene, social order or security.
This law will take effect July 1, 2011. 
The NA also passed the six other laws yesterday, namely the Post Law, the Law on Efficient Use of Energy, the Law on People with Disabilities, the Adoption Law, the Law on Trade Arbitration, and the Law on Food Safety.