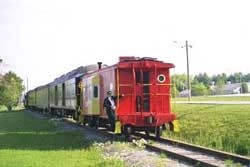 Several trains are not allowed to arrive and depart in the Ha Noi station during APEC meeting
For the safety of the delegates of the 14th Asia-Pacific Economic Cooperation (APEC) Economic Leaders' Meeting, all freight and passenger trains are not allowed to arrive and depart in the Ha Noi station from 6:am to 22:pm from October 12-19, said an official of the Viet Nam Railway Corporation
.
Trains must start and leave in the Long Bien, Gia Lam, and Yen Vien stations.
The trains must be kept in the station when there is information of the delegation travelling across the rails. In addition, railway employees should give first priority to delegation travel.
Thong Nhat trains arrive and leave from the Ha Noi as usual during APEC meeting.