No punishment or mistreatment was imposed on those Vietnamese people of the Central Highlands who had previously fled illegally to Cambodia, said Ellen Sauerbrey, the US Assistant Secretary of State for Population, Refugees and Migration, during a meeting with the press in Ha Noi on Monday.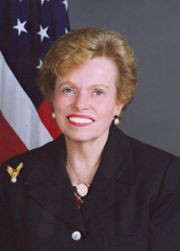 Ellen Sauerbrey

Sauerbrey was without the presence of government officials when she spoke with seven of the former refugees and was able to confirm that they were not mistreated or punished upon their return to Viet Nam.

The returning refugees explained to Sauerbrey that they were happy to be home, where their lives had continued as normal. She added that these people had not planned on leaving Vietnam, but had simply followed others in doing so.

The US diplomat affirmed that the Government of Viet Nam has adopted an open policy for organizations and individuals to visit the Central Highlands in order to directly meet with or talk to the returnees if they wish.

Sauerbrey, on her first visit to Viet Nam, commented on the vigorous growth of the country and revealed that she was impressed by the positive results of her visit and by the enthusiasm of the Vietnamese people.