The Australian Embassy in Hanoi and the Australian Consulate General in Ho Chi Minh City are calling on individuals and organisations in both countries to nominate Vietnamese for the Australian Alumni Awards 2011.
The Vietnamese Graduates from Australia Club (VGAC) is organizing the awards program with support from the Embassy and the Consulate General, an embassy announcement on Thursday said.
Nomination started September 1. Nomination forms can be found at www.vgac.net and should be completed and submitted by 15 October 2011.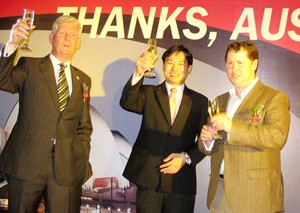 File photo taken on Nov. 13, 2010 in Ho Chi Minh City shows (L-R) Australian Consul General Graeme Swift, VGAC national chairman Huynh Du An and Jack Snelling, South Australian Minister for Employment, Training and Further Education, toast during the year's Australian Alumni Gala (Photo: Tuong Thuy)
The Awards honor Vietnamese graduates from Australian education institutions whose talents and contributions have enriched and benefited Vietnam in fields such as art and culture, innovation and research, business and education, the Embassy said.
The award winners will be announced at the Australian Alumni Awards Cocktails in Hanoi on 11 November 2011. Nominations are open for five categories namely business leadership; community service; innovation and research; education, arts and culture; and for Australian citizens in Vietnam.
"The Alumni Awards are an important recognition of outstanding alumni by their peers," Australian Ambassador Allaster Cox said in the announcement.
"The awards celebrate the achievements of Vietnamese alumni of Australian education institutions and encourage them to go further and contribute more to Vietnam's economy and society".
Ly Quy Trung, the founder and owner of the PHO 24 brand, won the Australian Alumni Award 2008 for Business Leadership. He said, "Winning the award helps remind me to be a reliable leader for the next generation of Vietnamese graduates from Australia."