At least 16 people have been killed and 15 unaccounted for after heavy rains triggered severe flooding in northern mountainous provinces since July 3, according to initial reports.
Bac Kan Province suffered the heaviest losses with 13 dead and 11 missing. Cao Bang province has one dead and two missing, Ha Giang has one dead and one missing, Lai Chau has one dead and Lao Cai has one missing.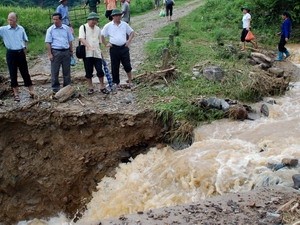 This photo, taken on July 5, shows floodwaters having damaged the only road to Nhan Mon Commune, Pac Nam District in Bac Kan Province
Pac Nam District in Bac Kan was the worst-hit area. On Sunday, many parts in the communes of Nhan Mon, Cong Bang and Giao Hieu were being seriously flooded. Lots of parts in Nhan Mon and Cong Bang were isolated, and rescue workers managed to approach a landslide-hit area, where the death toll is expected to rise.
Floods submerged and swept away a great number of houses, damaged roads, irrigation works and crops.
The national weather bureau warned that the rivers' water levels will continue to rise in the next few days.
On July 5, the Da River's water level was measured at 175.98 m in Muong Lay, Dien Bien Province, 1.02 m lower than the second warning level.
Its flow into the Hoa Binh reservoir, the largest reservoir in Vietnam which plays an important role in flood control for the Red River delta and hydro-power generation. The river's flow into the reservoir is forecast to peak at 13,200 cu.m per second on July 6, then to slowly decrease.
The Lo River's water level is forecast to reach its peak at 25.1 m in Tuyen Quang Province on July 6.
As the Hoa Binh and Tuyen Quang reservoirs will open some of their outlets, the centre warned the water level in the Red River's basin will rise to 8.8m in Hanoi on July 7, flooding its alluvial soil grounds.