People in the northern region are rushing to repair the damage caused by Typhoon Son Tinh, where so far 12 have been reported dead or missing and 43 injured.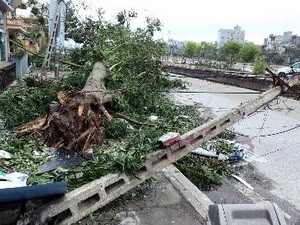 Typhoon aftermath in Thai Binh Province (Photo: VNA)
Prime Minister Nguyen Tan Dung has sent a dispatch to the Ministry of Agriculture and Rural Development asking to urgently resume electricity connections and all communication systems.
Vietnam Electricity said that they have repaired the electricity supply system in Thanh Hoa Province. Repair work is 30 percent complete in Nam Dinh Province, 50 percent in Thai Binh Province, 85 percent in Ninh Binh Province and Hai Phong City and 90 percent in Quang Ninh Province.
The worst hit areas like Thai Binh and Nam Dinh Provinces and Hai Phong City have pumped out floodwaters to save the rice and vegetable crops.
According to the Steering Committee for Flood and Storm Prevention, Typhoon Son Tinh has destroyed 13,240 houses, devastated 19,600 hectares of rice fields and 10,000 hectares of seafood farming area in the northern region.
Luong Ngoc Binh, secretary of the Party Committee in Quang Binh Province, surveyed the area on Tuesday and discussed measures to repair the collapsed sea dyke connecting Hon Co Island with Quang Trach District in Quang Binh Province.
A cold front has now slammed the northern region, causing thunderstorms and showers in some places.
Related article:
Typhoon causes havoc in northern region