Inhabitants of Kim Son District in northern Ninh Binh Province have been tackling the problem of seawater encroachment for nearly 200 years. Rather than allowing highly saline water to inundate mainland areas, citizens have worked to reclaim land and create more opportunities for farming.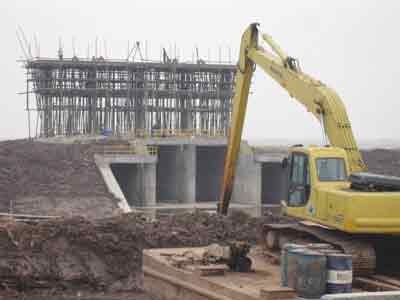 Work is carried out on the Binh Minh dyke in the northern province of Ninh Binh. The dyke is part of efforts to stop seawater from encroaching into the mainland of Kim Son District. (Photo: SGGP)
Kim Son is now three times wider than it was 180 years ago. Eighty-two-year-old Party Committee Secretary of the province's Binh Minh farm area, Tran Trung Dinh, remembers how soldiers worked to reclaim a huge piece of land in 1957-1958. They created 823 more hectares, which spanned 10 kilometers in length.
Binh Minh is now home to 1,161 households, most of whom practice farming, said the chairman of Binh Minh People's Committee, Pham Van Nghiem.
In 1980, the town began planting rice on the alluvial land the soldiers had reclaimed, said Mr. Nghiem. The soil proved to be highly conducive to planting rice.
"In the past, farmers didn't use fertilizers," said Mr. Nghiem. "Instead, they usually took muddy red water from the sea."
Kim Son was also one of the first districts in the north to harvest an impressive five tons of rice per hectare in the Red River delta.  
The encroachment of seawater into mainland areas has led to difficulties in farming production for other communities that haven't taken action. In addition, recent abnormal weather patterns have led to shorter winters, more sunshine, and additional insects that cause diseases in rice plants, Chairman Nghiem said.
Low-lying Kim Son District is one of the country's most vulnerable areas to sea encroachment and natural disasters. But thanks in part to depositions by the Can and Day rivers, residents are able to reclaim 80-100 meters of land each year.
It is predicted that if the sea level increases by one meter, over 5 percent of Vietnam's land would be submerged, affecting 10 million people or 11 percent of the population. It would also reduce 7 percent of agricultural output and 10 percent of gross domestic product.
According to international experts, the Mekong River Delta and the Red River Delta – Vietnam's largest rice producing regions – would experience some of the most serious consequences of sea-level rise. Coastal cities and provinces would also suffer.