Northern Viet Nam is bracing for flashfloods because of downpours brought by Typhoon Hagupit this week and a new system that has formed over the western Pacific.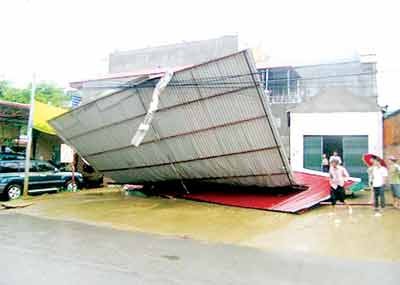 Torrential rains flattens houses in the northwestern city of Son La (Photo:SGGP)
Before Hagupit made landfall in southern China a few days ago and weakened into a tropical low pressure system, it dumped huge quantities of rain in Viet Nam.
Traffic in Quyet Tam and Quyet Thang in the northwestern city of Son La has slowed to a crawl following the rains. Some parts of the province are submerged.
More than 70 houses were swept away and scores of old trees uprooted, including two over 100 years old.
Large swathes of hillside were washed away in Quyet Thang District, destroying roads and houses below. Residents have been evacuated to shelters.
The provincial storm prevention and rescue agency warned against rising water levels in rivers, with the third-stage warning level breached in many areas.
Nguyen Trong Minh, People's Committee chairman in the northern province of Quang Ninh, said rescue forces have brought back a missing boat with fishermen aboard.
The ship was damaged at sea and is being repaired at Cai Rong harbor. Tourists are not allowed to go around Ha Long Bay.
In the northwestern province of Lao Cai, concerned agencies and residents are now preparing for Typhoon Jangmi.
It is packing maximum sustained winds of 80 miles (128 kilometers) per hour with higher gusts, the National Center for Hydrometeorology Forecast reported.


Jangmi is expected to strengthen and approach the East Sea by September 29, the center predicted.