The Bill on House and Land Tax was discussed by National Assembly (NA) deputies November 22, with many saying now is not the right time for homeowners to start paying tax on their property.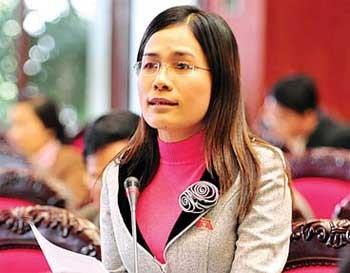 Deputy Nguyen Thi My Huong speaks at the ongoing NA session on November 22 in Hanoi, where a bill on house and land tax was discussed. (Photo: SGGP)

Speaking at the ongoing NA session in Hanoi, Ngo Van Minh of Quang Nam Province said: "Why should we impose tax on homeowners, as people's right to accommodation is a basic right outlined in the Constitution?"
"People work a long time to purchase a house and they are already subject to personal income tax," said Nguyen Thi Nguyet Huong of Hanoi. "Therefore, making them pay tax on their home is like charging them twice." 
Pointing out that a house tax would affect millions of families, Ms. Huong said: "Currently, one-third of civil servants have yet to own a home and their income is still low. I suggest that house taxation not be applied now. If the tax is to be applied in the future, it must be carried out according to a specific plan."
"Based on the economy and the country's income per capita, now is not the right time for house taxation. We should put it off for some time, even up to 10 years," said Tran Du Lich of Ho Chi Minh City.
"It should be carried out in a manner similar to that of personal income tax, which was first applicable on only high-income earners and later on all people who earn a taxable income," he said.
Mr. Lich also warned that a house tax might inflate the housing bubble, since market prices of houses and land have increased far beyond their actual values.
Discussing land taxation, many deputies said the bill should clarify who is eligible for a reduction or exemption of land tax, to avoid losses to the State budget revenue.  
Tran Viet Hung of Hoa Binh Province said: "As for land left unused, land owners should be subject to a tax rate of 1.5-2 percent, or higher, of the value of land."
NA deputy chairman Nguyen Duc Kien asked the bill's drafters to specifically identify who will pay land taxes when land is leased or assigned for use without charge, or used for building apartment blocks or industrial parks.
Most legislators concluded that house and land taxation would affect a large part of the population, so the matter should be reconsidered carefully before a law is promulgated.