The Ministry of Agriculture and Rural Development on November 28 inaugurated an Observation Center in Hanoi to assist fishermen to operate smoothly while out at sea.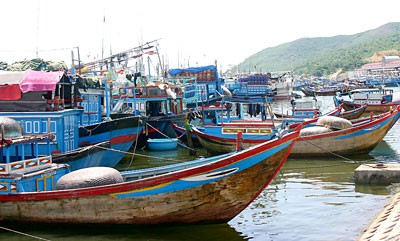 All fishing boats can now communicate directly via a satellite system (Photo: SGGP)
According to deputy minister Vu Van Tam, the Observation Center is part of a project called 'Movimar Satellite System for Observation of Fishing Boats, Fishing Areas and Resources', which was approved by the Prime Minister in 2008.
The project is being funded via the French Official Development Assistance at a cost of euro 13.9 million (US$18 million).
The Observation Center is equipped with advanced technology to monitor positions of fishing boats and receive their signals in case of an emergency, accidents or a pirate attack.
The center will handle remote sensing images and forecast safe fishing grounds for fishing boats to enter. This is the first center of its kind in Vietnam to assist fishing boats using a satellite system.