At 10:15pm last night, much to the surprise of many residents, Ho Chi Minh City, the southern coastal town of Vung Tau and several neighboring provinces were rocked by an earthquake situated some 200km in the East Sea off Vung Tau and measuring 4.0 on the Richter scale.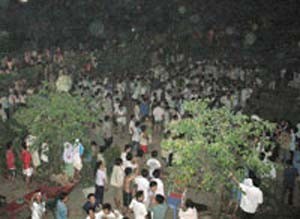 People living in high buildings rush outside when the earthquake hits Ho Chi Minh City

The earthquake threw many into panic when they saw household items shaking for five to fifteen seconds non-stop. Some areas even reported experiencing two consecutive earthquakes lasting 20 seconds each.

People living in higher buildings rushed outside, many reluctant to return for fear of encores.

Fortunately, estimated damages were minimal.

According to Global Physics Institute Director Nguyen Ngoc Thuy, the incident originated in two faults in Thuan Hai – Minh Hai and the western East Sea.

Diretor Thuy noted, however, that Viet Nam is estimated to face "average" danger from earthquakes among world nations and the southern part of the country is not expected to see any quake exceeding 5.5 on the Richter scale.

Tsunami threats are minimal in Viet Nam, he added.