The official responsible for granting three "safe product for community health" certificates to MSG maker Vedan Vietnam has been given a warning for his "irresponsibility."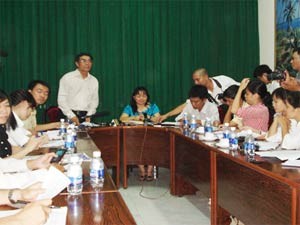 At this meeting of the Ministry of Science and Technology's Disciplinary Council November 2, the chief of the ministry's HCMC office (standing) received a warning for issuing "safe product" certificates to Vedan (Photo: VTC News)
The warning to chief of the Ministry of Science and Technology's Ho Chi Minh City representative office, Bui Van Quyen, came from the ministry's disciplinary council which met on November 2 to consider the accountability of officials and organizations who issued the certificates to the polluting company.
Last year Vedan was found discharging untreated wastewater into the Thi Vai River in the southern province of Dong Nai, causing serious pollution and great damage to riverine communities, the council said.
Mr. Quyen was the head of a panel that chose winners of the "Businesses with excellent quality management system" and "Top 100 safe products for community health for 2009" awards this year.
It was done in the coordination with the HCMC-based Natusi Patent Standard Quality Agent (NATUSI), a center for trademark and quality consultancy.
While screening candidates, NATUSI put Vedan on its list of candidates qualifying for both awards, but the panel rejected the proposal.
But it still included the names of three Vedan products in certificates signed earlier by Mr. Quyen.
After the certification was severely criticized by the public and media, the ministry asked the office to withdraw the certification and submit a report by October 28 but the latter failed to do. 
The ministry sent a special team to HCMC October 29 to investigate and instructed the office to revoke the certification granted to Vedan.
The revocation was made the same day.
Related articles:
Special team formed to probe Vedan product certification
Vedan's 'safe product' certificates revoked
Ministry official explains Vedan title for community health