With land erosion across the country over recent years becoming a serious threat, illegal sand dredging – one of the main causes of the problem– is taking place openly on some sections of the nation's rivers.
Close to home, HCMC also suffers from open illegal dredging.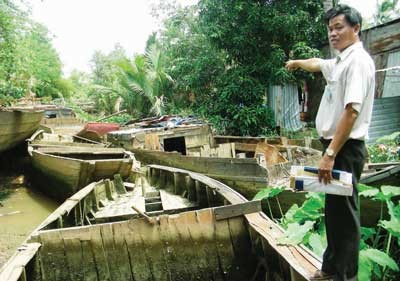 13 sand dredging boats seized by inspectors (Photo; SGGP)
According to a recent estimate, around 100 hectares of land are washed away Ho Chi Minh City every year.
Fields, residential quarters and roads have disappeared or become damaged in a short number few years due to landslips.
Thousands of people in areas prone to landslips are at risk, as resettlement projects are being designed while city authorities have authorized landslide prevention projects. Of those, one project was completed earlier this year, two others are in progress, six have yet to get underway and 12 are waiting funds.
Tens of local barges have been working at full-blast on rivers in District 9 to dredge sand.
After just half an hour, a small canal barge is full and ready to sell its dredged sand to larger barges.
The sound from the barges' engines disturbs river life and residential blocks near by, with exploitation of the rivers not only taking place at days, but also at nights.
Tens of ships dredge Tac River, making it deeper by the day, with barge owners even cheeky enough to land their boats near houses. 
Relevant agencies estimate that thousands of square meters of sand have been taken away. The situation is similar at rivers in other HCMC districts.
A construction inspection chief in District 9, Chau Van Hoang, said Long Phuoc Ward is surrounded by two rivers Dong Nai and Tac.
This is low land, hence people need much sand to level, he said.
Moreover, the demand for sand is huge in the city and southeast provinces and profits from dredging sand are very enormous, he added.
Mr. Hoang calculated in one night, a ship owner can earn some millions of dong with three or four trips, while paying for only ten liters of gasoline.
Offenders usually arrange a person to track inspectors and ward committees' activities to raise the alarm to fellow dredgers.
Sand dredging boats quickly disappear when inspection teams come to rivers.
Dredgers also take advantage of lax oversight in three districts, 9, Nhon Trach, and Long Thanh, and conduct illegal activities in the open, 24 hours a day.
Mr. Hoang said officials had seized 13 boats and imposed fines on 17 boats buying and selling sand without receipts.
However, the dredging still takes place because inspection agencies lack personnel - only five inspectors, and one boat.
The local ward's People's Committee can also only hand out small administrative fines, while sellers can reap large profits.
It seems that no effective solution has yet been found.