The outcomes of Party General Secretary Nguyen Phu Trong's official China visit from April 7-10 generated an important prerequisite for healthy and sustainable bilateral relations for each country's benefits as well as regional and global peace, stability, cooperation, and development, said senior officials escorting the Party chief during the tour.

Defence Minister General Phung Quang Thanh said through meetings, the two sides were resolved to grow together for mutual benefits, through the signing of important cooperation agreements, especially in economics, transport connection, and people-to-people exchange, including an agreement on the United Nations peacekeeping cooperation between the Vietnamese Ministry of National Defence and its Chinese counterpart.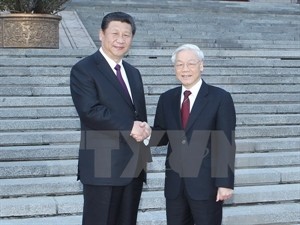 General Secretary of the Communist Party of China and President Xi Jinping (L) welcomes Party General Secretary Nguyen Phu Trong (Photo: VNA)
The two sides admitted the East Sea issue remains their outstanding matter and agreed to settle their differences surrounding it peacefully, seriously adhere to the Declaration on the Conduct of Parties in the East Sea, and work towards the building of a code of conduct in the waters, he stressed.
They also agreed to well manage sea-related disputes to maintain a peaceful and stable environment for their common interests as well as the regional stability, the General noted.
He said the defence ministers of all ASEAN member countries will meet with their Chinese counterpart in China in November to seek to reinforce defence cooperation and control disputes for peace, stability, and navigation and aviation security, safety and freedom at sea.
Minister of Industry and Trade Vu Huy Hoang said via the meetings, the two countries affirmed that they are close economic partners, citing two-way trade value reaching 60 billion USD in 2014 and their set goal of 70 billion USD by 2017.
During the visit, the two sides agreed to seek all possible measures to foster their economic cooperation, including stepping up the implementation of agreements on exporting Vietnamese farm produce to China and the construction of cross-border cooperation zones.
China promised favourable conditions for Vietnam to conduct trade promotion activities more effectively, he said, noting that the Southeast Asian country completed procedures needed for the opening of its first trade promotion office in Chongqing city and is about to put similar agencies into operation in other cities.
Hoang said the two sides also agreed to negotiate about supplements to their cross-border trade agreement signed in 1998 or about a new agreement in order to balance their trade and bring more benefits to their border communities.
He expressed his belief that with the outcomes reached during the visit and recent agreements inked between the two Governments, the countries' economic affiliation will be increased qualitatively and quantitatively.
Meanwhile, Minister of Planning and Investment Bui Quang Vinh highlighted the signing of a large number of socio-economic cooperation documents, including a document on continuing to review the planning on their socio-economic cooperation for the 2012-2016 period.
Vinh recalled that he and Chinese Minister of Commerce Gao Hucheng agreed to ask their working groups to review Vietnam's key investment projects under the above-mentioned planning, inked in 2011, and adjust them to adapt to current conditions, thus facilitating investments in major joint projects.
The two sides also agreed to foster Vietnam's investments in China and vice versa, as well as the construction of buildings symbolising the countries' friendship such as the Vietnam-China friendship cultural palace in Hanoi, he added.
He said in August he will lead an inter-sectoral delegation to work with the Chinese side on infrastructure cooperation projects, including the feasibility study on the Lao Cai-Hanoi-Hai Phong express railway which will be linked with China's Yunnan province.