A fuel oil leak from a Mongolian vessel in waters off the central province of Binh Dinh is now under control, the Binh Dinh Department of Natural Resources and Environment said January 18.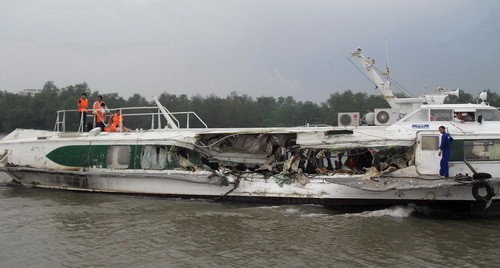 An accident happens on the Saigon River on November 25, 2009, causing serious damage to both vessels. (Filed photo)
The leak sprung January 17 when the Mongolian Vitamin Gas vessel with 12 sailors aboard hit a reef while passing through the central province of Binh Dinh's territorial waters, said the department.
The spill stretched 2km long and 800m wide, affecting shrimp-breeding areas of 32 households, around 15,000 lobsters, and more than 10,000 seed shrimp, worth a total of VND7 billion (US$368,400).
The department has now set up barriers stretching 500 meters to prevent more oil from spreading in the water.
The ship, which was carrying 800 tons of gasoline from the southern beach city of Vung Tau to the northern province of Quang Ninh, has been unable to move since it crashed into the reef. It now holds approximately 30 tons of diesel oil and 40 tons of fuel oil.