The country's sole oil refinery, Dung Quat in the central province of Quang Ngai, reopened on September 30 after remaining closed for a more than a month with technical problems.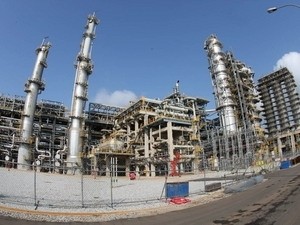 A view of Dung Quat Oil Refinery
The refinery, which went on stream on June 24, had produced almost 40,000 tons of LPG and 198,000 tons of A92 gasoline besides other products before being shut down on August 18 with a broken valve in the residue fluid continuous cracking unit.
The refinery is working at 65 percent capacity and is expected to reach full capacity by October 20.
Related articles:
PM calls for thorough examination of oil refinery before reopening
Vietnam's oil refinery pauses operation