After hearing reports of an oil spill just off the shore, the authorities of Vung Tau asked nearly 2,000 soldiers, young people and other locals to help clean up the oil. On Sunday morning, they collected more than eight tons.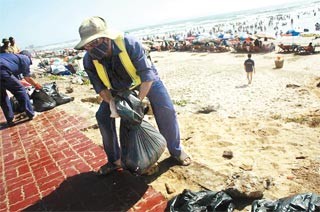 Employees of Natural Resources and Environment Department of Vung tau clean up the oil
The oil spill was first noticed by tourists and the staff of the Paradise, Bien Dong (East Sea), Vung Tau Intourco and Caps Saint Jacques resorts.
They said the oil had appeared on Saturday in isolated patches at first, but by Sunday had become much worse.

At an urgent meeting convened by the Ba Ria-Vung Tau People's Committee, Deputy Director of the Department of Natural Resources and Environment Nguyen Boa said the oil had spread from Cape Nghinh Phong to Long Hai, and that dead fish had been seen under Cua Lap Bridge.

The oil threatened a large area of salty marshes, commercial salt pans, and 270 shrimp farms, he said, and could damage the local economy.

The Ba Ria-Vung Tau People's Committee then ordered the relevant departments, agencies and local authorities to clean up the oil and avert financial damage, and to closely monitor the situation.

The cause of the spill has not been determined, but local residents say it's been happening every February to April for decades. Previous investigations have drawn a blank as to where it comes from.