An oil tanker carrying 10,000 litres of petrol suddenly burst into flames while anchored on My Xuyen River in My Xuyen District in the Mekong delta province of Soc Trang on May 7, causing serious burns to the steersman.
Steersman Le Van Hien, 35, hailing from Can Giuoc District in the Mekong delta province of Long An, suffered severe burns in the fire and was rushed to the General Hospital in An Giang Province.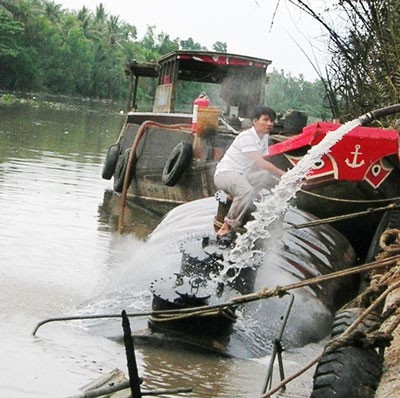 Oil being taken out of the sunken vessel (Photo: SGGP)
The body of the vessel and all its fishing equipment were completely charred and subsequently sank into the river.
According to eyewitnesses from anchored ships nearby, before they saw a flame erupt, there were several loud explosions.
Lieutenant Colonel Dang Van Phe, head of the police in the district, said the vessel was anchored nearby a Phu My Hung petroleum warehouse. A staff member of the Phu My Hung Company which owned the warehouse confirmed that the vessel had just been filled with 10,000 litres of petrol.
Many people on boats nearby tried to put out the fire but gave up when the blaze became uncontrollable.
When the fire fighters arrived they too tried to douse the fire but the blaze was far too strong and it took them one hour to bring the fire under control.
At present, rescue teams and local residents are trying to salvage the oil from the tanker which is floating on the river. Further investigation as to the cause of the fire is being conducted.