A set of old horns were found by a local man who came upon them by chance as he was digging a spot to build a bridge over the Ngan Sau River in Huong Khe District in the north-central province of Ha Tinh.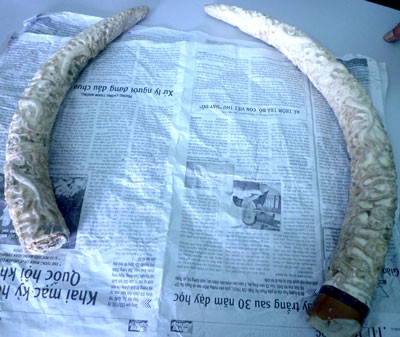 A set of old horns were uncovered by a local man in Ha Tinh Province
Vuong Kha Nang, a local man, found the two horns buried in the ground. The set of horns are milk white in colour and each is about   40-60m long and weighs a kilogram. Both the horns are skillfully carved in a flouncy, wavy, relief design.  
Nang has submitted the horns to the People's Committee in Gia Pho Commune, who have contacted the Cultural Department in Huong Khe District to determine the period, material and value of the above horns.