Since 1975 hundreds of reservoirs were built in the Central Highlands to irrigate rice and coffee plantations, most of which are now damaged and badly downgraded, causing much inconvenience to local residents during peak storm season every year.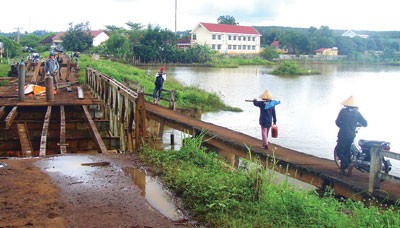 The bridge over the reservoir in Cu Kpo Commune of Krong Buk District in Dak Lak Province has been destroyed, forcing local people to use a make-shift bridge (R) (Photo: SGGP)
The water reservoirs had been built across rivers and springs on sloping terrains. Should they ever breach, large volumes of water will overflow onto the lowlands, threatening the lives and property of local residents.
Dak Lak Province alone has 643 irrigation reservoirs, of which 62 have badly downgraded and unsafe during the flood and storm season.
The reservoir in Cu Kpo Commune in Krong Buk District has now badly eroded and the bridge spanning across the reservoir has been destroyed, forcing local people to trek on a nearby make-shift bridge.
Nguyen Van Hoan, deputy chairman of the People's Committee of Cu Kpo Commune, said that the 10 hectare reservoir was built in 1976 by the Dak Lak Rubber Farm, who then handed it over to the commune in 2006 for irrigating the coffee plantations.
From then on, the reservoir has kept downgrading, but the commune does not have sufficient funds to repair it. If the dam breaches, 50 houses in the low lying areas will be swept away.
Ea Rieng Commune in M' Drak District has four reservoirs but they all have been badly damaged, threatening hundreds of houses.
"I am very scared of a dam breach, when it rains heavily," said Nguyen Thi Mui, a local resident in the commune.
Nguyen Huu Chung, deputy director of the Department for Agriculture and Rural Development in Dak Lak Province, said that local authorities have not managed these works properly and usually pass the buck onto the other, worsening the situation. Besides, the province lacks capital money for repair works and maintaining the reservoirs.
The neighboring province of Dak Nong has 155 reservoirs but 125 of them need repair work. The dam here has suffered from water leaks, landslides and erosion.
Hoang Trung Tho, director of Dak Nong Irrigation Company, said that three reservoirs in Quang Son Commune in Dak G'Long District, Nhan Dao Commune in Dak R'Lap District and Dak Nia Commune in Gia Nghia Town are in an alarming state. If they are not repaired in time, they can burst any time.
The company has established a project to repair and upgrade all irrigation reservoirs in the province at a total cost of VND600 billion (US$28.57 million). However the province can only afford to repair 3-5 works a year.