One Vietnamese fisherman died and seven others are still reported missing after a Vietnamese fishing boat collided with a Singapore container ship, the Sima Sapphire, on September 16.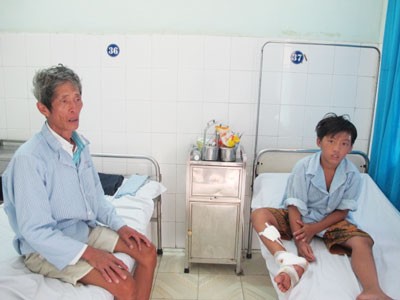 The eldest and youngest fishermen saved by the  Singaporean container ship (Photo: SGGP)
The collision occurred at 3am off Vung Tau City in the southern province of Ba Ria – Vung Tau on September 16.
After receiving news of the collision, Do Hong Thai, Deputy Chief of Vietnam Maritime Administration, arrived in Vung Tau City to direct search and rescue operations.
According to him, the Sima Sapphire was departing from Cat Lai Port in Ho Chi Minh City for Malaysia when it collided with the fishing boat from the Mekong delta province of Tien Giang, about 50 nautical miles south of Vung Tau.
The Administration ordered its subdivisions, including Vietnam Maritime Rescue Coordination Center for Zone 3 (Vung Tau MRCC) to mobilize forces to conduct search and rescue operations to search for victims of the collision.
MRCC sent two rescue boats to the scene to search for the missing men; however, due to huge waves, poor vision and fishing nets out at sea, the rescue ships could not access the wreck.
The National Committee for Search and Rescue sent a helicopter to the scene to search for victims; however, due to bad weather and poor vision, the helicopters were forced to return.
With the impact of the collision, the fishing boat turned upside down and all fishermen fell into the sea. The Singapore ship crew managed to save eight fishermen and fished out the body of one soon after the calamity.
There is a high possibility that seven of the fishermen could be still stuck inside cabin.
Le Van Chien, Director of Vung Tau Port Authority, said eight fishermen who were rescued are being taken care of on the foreign boat.
According to an initial investigation, the two boats collided with each other due to poor vision. However, the real cause will be determined only after authorities retrieve the black box of Sima Sapphire and take down all crew testimonies.