The body of a man was discovered in the ruins of Can Tho Bridge this morning, although whether he was the last known missing worker will have to wait until forensic tests are done on the corpse.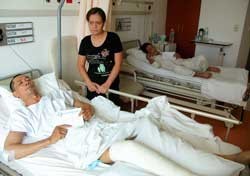 An injured worker undergoes treatment in the hospital

This brings the death toll in the bridge collapse to 54.

Several sources reckon there could be more bodies under the concrete debris as many freelance workers were employed on the bridge under assumed names when the two spans gave way, and quite a few who were registered let others do their work and were not present.

One of the searchers has suggested expanding the search down to the last layer of concrete, even underground as several slabs were buried deep in the earth.

Meanwhile, the investigation committee says the technical experts are still hard at work investigating why the bridge collapsed.

On Tuesday, they tested one of the 14 pylons to see whether the foundations would sink or not. The result will be announced in the next few days.