The co-joined twins Viet-Duc, victims of Agent Orange, were successfully separated by Vietnamese doctors in Viet Duc Hospital 19 years ago.  Yesterday, Nguyen Viet, one of the twins passed away in Tu Du Hospital, Ho Chi Minh City.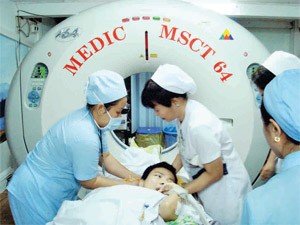 Nguyen Viet has a CT scan at Medic Center when his condition worsens in June
After refusal to separate the twins by a Japanese hospital, the twins underwent the separation procedure with a surgical team of doctors in Ho Chi Minh City in 1988. 
 
The twins were separated and came through the 15-hour operation very well under the careful supervision of the doctors.  
The operation marked great achievement, not only in Viet Nam's medical history but also in the world's.
 
Nguyen Viet gave three-quarters of their shared bodily organs to his brother Nguyen Duc.  Since the operation in 1988, Nguyen Viet has been leading a vegetative existence in Hoa Binh Village in the Tu Du Hospital.
 
Around-the-clock care of doctors and nurses has been provided to Nguyen Viet during his stay in the hospital.  
His condition has both been stable and shown improvement periodically, but began to worsen about three months ago. Yesterday, it decreased to a level that he could not overcome.
 
Nguyen Duc is much luckier than his twin bother. Surviving from the most famous operation in Viet Nam, Duc has overcome many difficulties in life to rejoin the community. He got married last year and leads a normal life.

Duc said, "My body is a part of my brother's so my life is also a part of his life. I have to live better for what my brother sacrificed for me."