The leaders of twelve provinces in the Dong Nai River basin have gathered recently to discuss measures to protect the water of Dong Nai River, which is the main water supply for production and everyday life of these provinces and cities. The leaders agreed to take bold measures to deal with this issue.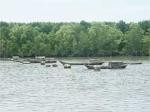 Dong Nai River
Vice chairman of the Ho Chi Minh City's People Committee, Mr. Nguyen Van Dua, proposed that twelve provinces and cities should accept the decrease in industrial growth to consolidate environment, creating bases for sustainable development, terminating the operation of businesses which pollute the environment.
These provinces should not license the branches with high risk of pollution or environmental problems as well as assisting businesses to renovate their producing techniques.
 
Vice chairman of the Ba Ria – Vung Tau Province's People Committee, Mr. Tran Ngoc Thoi, shared the same view and proposed that individuals and organizations that violate the law of environmental protection should be penalized.
On the other hand, there should be concrete regulations about the construction of riverside factories and types of branches which are not allowed to dump wastes into the river…

The Vietnam's Ministry of Natural Resources and Environment represented by minister Mai Ai Truc seemed to be determined to solve the problem.
Mr. Truc said that the ministry is willing to extract budget to assist the Dong Nai River Basin Committee of Environmental Protection to research on water quality and find the solution for environmental pollution.
In addition, the ministry will issue the portfolio of branches which are not licensed to invest for risk of pollution and environmental problems.
It will also support those provinces and cities to establish the system of water testing to evaluate one hundred percent the quality of waste water.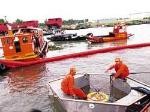 Oil spilling over Dong Nai River
He ordered the provinces and cities to spend at least one percent (ten percent expected in the coming time) of total budget on environmental protection.

Dong Nai River has been seriously polluted by organic substances, grease and oil in non-treated waste water dumped by nearby factories and workshops.