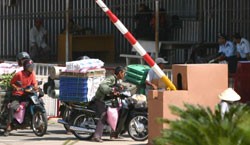 Goods go through the Moc Bai border gate into Cambodia.
A meeting on cooperation improvement and information exchange in import/export, immigration, anti-smuggling and commercial frauds fighting was held by Tay Ninh Province's Custom Department and Kampong Cham and Svayrieng Provinces' Custom Departments (Cambodia) on June 30, 2006
.
Mr. Sin Samphal, head of delegates of the Kampong Cham and Svayrieng Custom Departments, asked the Tay Ninh Province Custom to have more strict measures to strengthen measures against petrol smuggling from Viet Nam into Cambodia and to prepare to provide one-day custom clearance for easy damaged agricultural products.
Tay Ninh Province Custom's suggestion of one-time checking at Moc Bai – Bavet border gate, according to an ageement between the two countries, in order to make the custom clearance easier was acknowledged by Mr. Sin Samphal.