Around 1,100 Vietnamese children under the age of five die of diarrhea every year and most of them suffer from parasitic infections which result in malnutrition leading to poor mental development, according to delegates at a meeting held to mark World Water Day (March 22).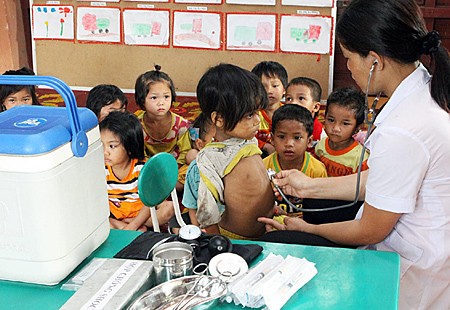 Malnorished children at a preschool in Quang Tri Province in the Central
At the meeting, the United Nations Children's Fund (UNICEF) released a report which informed that around 2,000 children around the world under the age of five succumb to diarrhea annually. Some 1,800 contaminated water and environmental hygiene cases are also reported.
Lotta Sylwander, a representative of UNICEF Vietnam, said by reducing diarrhea and parasitic infection in children, the country can not only reduce fatality in children but also malnutrition.
Presently, one-third of children in Vietnam suffer from undernourishment, which is now becoming an urgent need as it impairs growth and development and simultaneously causes other severe health problems.
Around the globe, nearly 90 percent children succumb to diarrhea due to contaminated drinking water each year. Though this figure is on the decline in the past decade--from 1.2 million cases a year in 2000 to 760,000 cases in 2011--UNICEF still considers this figure too high.
A variety of parasitic diseases occur frequently in developing countries, mostly reported from five countries such as India, Nigeria, the Democratic Republic of the Congo, Pakistan and China.