Vietnamese authorities recently closed down two agencies offering online train tickets for allegedly abetting scalpers capitalizing on booming demand for the upcoming lunar new year holidays.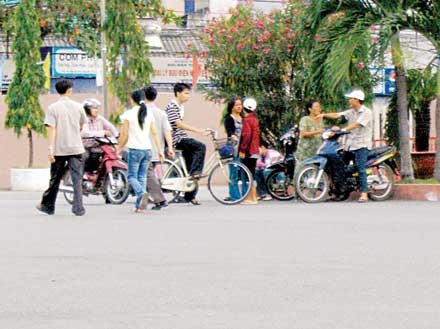 Scalpers offering train tickets at the Sai Gon Train Station
Nam Duc Viet and an associate in District 5 had their online trading site shut down pending investigations into whether they sold thousands of tickets to speculators who resold them for profits of VND150,000-VND250,000 each (up to US$15.60).
Under Viet Nam Railways regulations, the full names of buyers must be written on the back of train tickets for journeys over the 20th to the 28th of the last lunar month (January 27 to February 4). But Sai Gon Giai Phong discovered many tickets had been sold without the necessary names filled in.
When Sai Gon Giai Phong entered the Sai Gon Train Station in District 3 pretending to be looking for a ticket, one woman over 40 years of age approached claiming it was pointless to go inside because all tickets were sold out. "Only we have tickets. Just a little extra and you can have as many as you like", she said.
When asked about a ticket to Ninh Binh province on February 2, she smiled and asked for a VND300,000 ($18.75) commission. It did not take long to drive the fee down to VND250,000.
A little walk and several other touts appeared. Upon asked for a ticket to Ha Noi, also on February 2, another woman claimed it is extremely difficult to buy one via normal outlets now, but for VND200,000 on top of the VND566,000 fare she could sell one.
"If you introduce more buyers, we can reduce the fees", she said.
Railway officials later verified the scalped tickets were authentic.
Nguyen Van Thang, deputy head of the station, promised to punish any railway employee selling tickets without the necessary names filled in. It is against regulations, he told Sai Gon Giai Phong.