Only one percent of total enterprises in Vietnam have invested in agriculture, and 55 percent of these are small scale, capitalized at under VND5 billion, said Minister of Agriculture and Rural Development Nguyen Xuan Cuong.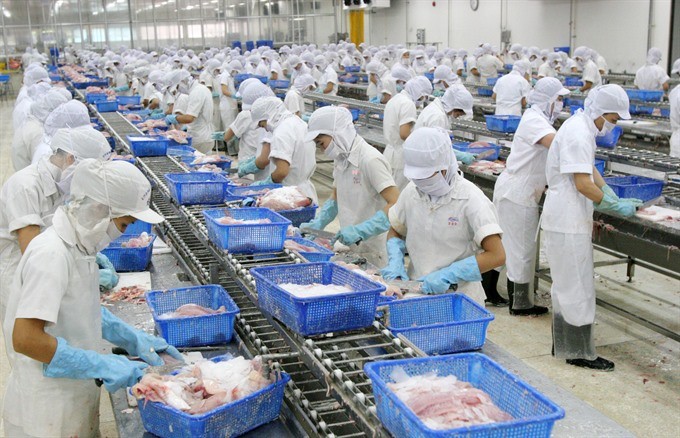 A seafood processing line at An Giang Fisheries Import-Export Company in the southern province of An Giang. (Photo: VNA/VNS)
Most of these investors had not undertaken professional investment activities and not applied hi-tech and state-of-the-art equipment in their projects, he told business representatives at a dialogue on investment organized in Hanoi by the Vietnam Chamber of Commerce and Industry and the Ministry of Agriculture and Rural Development (MARD). They had also not cooperated with scientists and farmers in the production chain. The result was high production costs, low competitive ability and inefficiency in investment.
For their part, business representatives called on the State to initiate more specific and preferential policies to draw investment to agriculture.
Mr. Cuong said the Government had preferential policies in taxes, credit, land and training to encourage investment in agriculture and the rural sector. It had also developed high-tech enterprises in the agricultural sector and enforced regulations on public private partnerships (PPP) in agriculture and the rural area.
As a result, he said, the number of enterprises investing in agriculture increased from 2,397 in 2007 to 3,640 in 2015 and to 4,080 in the first nine months of this year, the minister said, adding that many investors had gained by investing in hi-tech for agriculture.
However, the ministry also noticed that the development of investment in agriculture was unstable and that great potential for more investment in the sector was not being tapped, he said. Those enterprises that do invest in agriculture had encountered difficulties such as weather and limitations in land, credit and tax policies.
Mr. Dinh Cao Khue, chairman of vegetable and food exporter Dong Giao Export Food JSC, said agriculture was one of the sectors with a trade surplus, but it had few support policies. For instance, enterprises found it difficult to obtain land for developing agricultural projects.
Ms. Thai Huong, chairwoman of TH Group, said ministries and sectors had not come together to support enterprises in investment activities for agriculture. She urged the MARD to propose policies for agriculture with support from other ministries and sectors.
Mr. Khue also suggested the state should offer preferential loans at five percent for farm product processing enterprises to build factories, buy equipment and machines and grow trees, instead of the high interest rates of eight and nine percent.
Ms. Thai Huong said the state should choose goods which have an advantage in competition on world markets, with specific preferential policies such as development of the best rice variety.  The state should also set standards for farming products that meet international standards.
At present, the ministry has promoted the restructuring of agriculture to improve the value of farming products and achieve sustainable development in agriculture. One of the restructuring solutions has been to attract more investors, especially for building up chains from production to processing and consumption.
Minister Cuong said many large enterprises, such as TH Group, Dabaco, Vingroup and Hoa Phat, have invested in the sector to promote development.
The Government, for its part, had focused on improving the investment environment and encouraging enterprises to invest in agriculture, Cuong said, promising a breakthrough soon in preferential policies to instill confidence among investors, especially in hi-tech and clean farming.