The Vietnamese Government's decision to abolish its previous decree to cap the foreign workforce at 3 percent at businesses is considered as a move aiming at creating a new generation of managers in Viet Nam.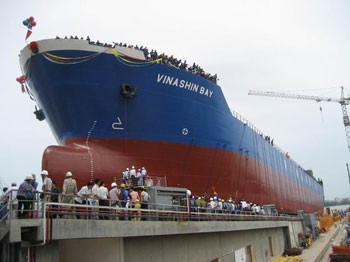 Vinashin is one of 5 companies allowed to recruite forein general directors.
As the country is facing a serious shortage of managers of medium and high level, it is necessary to take a policy wide open for foreign experts, Walter Blocker, CEO of Gannon Co. said.
Those Vietnamese who are holding high-level posts at enterprises had been either trained or worked at foreign firms for periods. Hence, the open policy for foreign managers will help improve the quality of local experts, Blocker elaborated.
Sharing the same view with Walter Blocker, Phan Thi Thuy Duong, an expert of Pricewaterhouse Cooper in Viet Nam , said the lifting of the three-percent cap on foreign workforce will enable enterprises to be more active in their human resource strategy.
The new policy provides enterprises with more chances in recruiting their employees in the context that many local job-seekers are not qualified enough, and eases the shortage of managers in some sectors, pundits said.
Regarding the worry about a possible wave of foreign managers seeking jobs in Viet Nam in the near future, Doan Mau Diep, Director of the Labour and Social Institute under the Ministry of Labour, War Invalids and Social Affairs, pointed out the fact that enterprises always prefer local employees due to their deep understanding of the local culture, their relations at their native country as well as low cost.
At the same time, enterprises are working out long-term strategy for local personnel development with the hope in the future, these well-trained people will fill almost all the posts previously held by foreigners. "A Vietnamese, who was trained in a multi-cultural and modern environment to get good work skills is a dream of many enterprises, an expert said.
According to the website vietnamworks.com, foreign workers recruited by Vietnamese enterprises in the first quarter this year increased 67 percent compared against late 2007. This trend is forecast to continue in the coming time.