Nguyen Hoai Giang, director of the Binh Son Refining and Petrochemical Company, in charge of Dung Quat Oil Refinery, said on Monday that the plant is stable and operating at 100 percent of its capacity.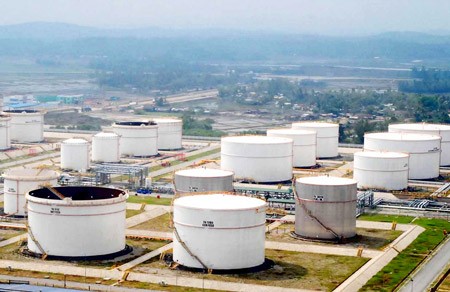 Oil tank reservoirs at the Dung Quat Oil Refinery Plant in the central province of Quang Ngai (Photo: SGGP)
Mr. Giang made the statement at a press conference to reject rumors that the plant will be closed for two weeks to repair problems in handling oil sludge, as reported by domestic and foreign press agencies over the last few days.
The plant has operated normally after a breakdown occurred due to problems with some angle joints, which caused the plant to stop operations from August 16-23.
On October 8, temperatures at these angle joints increased higher than normal but were still under safe limit. Experts and engineers made some small technical repairs and completely solved the issue and the plant was permitted to operate normally, he said.
Similar problems can always occur but can also be handled easily before Technip, the contractor of the plant, hands the plant over to the Binh Son Company by the end of this year.
Since September 2009, the Dung Quat Oil Refinery Plant has produced and sold 13.4 million tons of oil products in the market.