A number of organisations have signed a joint action programme in Hà Nội yesterday to support farmers affected by drought, saltwater intrusion, and massive seafood death.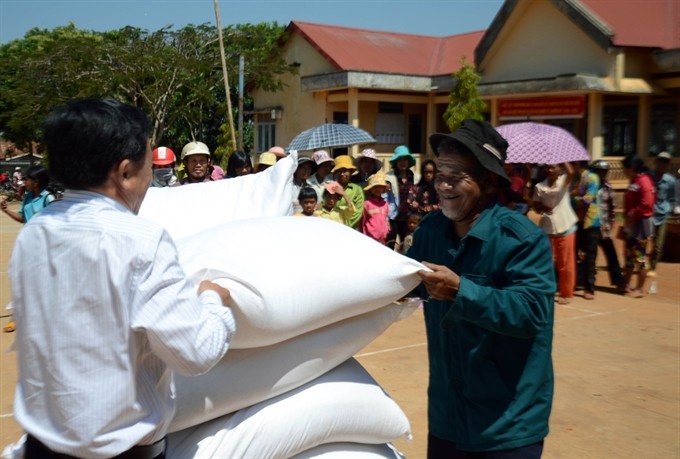 Farmers in the Tây Nguyên (Central Highlands) province of Đăk Nông, who suffered a prolonged drought this year, receive rice donations. — VNA/VNS Photo Ngọc Minh
The signatories include the Việt Nam Fatherland Front (VFF) Central Committee along with the Việt Nam General Confederation of Labour, the Vietnamese Farmers Association, the Hồ Chí Minh Communist Youth Union, the Association of Vietnamese War Veterans, the Việt Nam Red Cross Society, the Việt Nam Chamber of Commerce and Industry, and the Việt Nam Fisheries Association.
President of the VFF Central Committee Nguyễn Thiện Nhân said with the goal of developing closer and more effective co-ordination, the involved parties agreed to directly support 450,000 households amounting to 1.8 million people suffering from water shortages.
Due to massive fish deaths in central provinces, 12,500 fishing boats are yet to head back out to sea, affecting 63,000 fishermen, he said, adding that the Government had put forth a programme to assist locals with rice, money and loans.
In the next three to four months, there is an urgent need to help 6,000 households buy social insurance cards and enable their children to go to school, he said, adding that this required close co-ordination between relevant agencies.
Accordingly, the involved parties would mobilise necessary financial resources in June 2016 and transfer the money to support the affected localities next month, he said.
The action programme aims to supply fresh water to around 45,000 families affected by saltwater encroachment in the Mekong Delta, and drought in the Central Highlands and south central region, while purchasing health insurance cards for around 6,000 underprivileged households affected by massive fish deaths.
The involved parties will also inspect the delivery of the State's urgent assistance to fishermen in central Hà Tĩnh, Quảng Bình, Quảng Trị, and Thừa Thiên-Huế provinces in accordance with the Prime Minister's Decision 772/QĐ-TTg issued on May 9, 2016.
EU aid
In a related move, the European Union is providing 90,000 euros (about US$101,000) in humanitarian funding to assist the most severely-affected populations in the Central Highlands and the Mekong Delta regions.
This EU-funding is part of the 178,000 euro package allocated from the Disaster Relief Emergency Fund to support the Việt Nam Red Cross Society (VNRC) in delivering much-needed assistance, including the provision of safe drinking water, the promotion of good hygiene and health care practices, and unconditional cash transfers for the poorest households to meet food and other priority needs. The humanitarian aid will directly benefit 17,600 of the most vulnerable individuals, impacted by the climatic events in seven of the hardest-hit provinces, namely Bến Tre, Bình Thuận, Gia Lai, Long An, Sóc Trăng, Tiền Giang and Trà Vinh.
The drought, which has hit the southern and central regions of Việt Nam, has caused water shortages affecting some two million people. Approximately 1.1 million people are in need of food aid, according to the Ministry of Agriculture and Rural Development.
In the Mekong Delta, prolonged drought and the reduction in groundwater levels have resulted in the most extensive saltwater intrusion in 90 years into more than 400,000ha of crops with varying degrees of productivity loss. Another 25,9000ha have not been planted at all.